my motorbike
kawasaki big ninja, ZZR-1100 (ZX-11) is also known as "big Zed" or "eleven".

I fallen in love with this motorcycle long time ago, when I still was in school and this bike was a king. (Eleven kept the title of fastest world production motorcycle for long 7 years)

I was only able to afford it many years later when big Zed became avaliable on a second hand market.

I bought a completely destroyed motorcycle with motor on the brink of collapse.

3rd rod thing
Bike has been abused by previous owners and as result of oil starvation it got 3rd rod failure.
I learned what it is when engin exploaded on a highway. With splashes of oil and cool liquid a con-rod broke through a crankcase cylinder block. Luckily, this happened on a part of a road where my guardian angel usually catch up with me, otherwise I would be in a history.
It is common with older motors of D series and symptoms of this failure are- bike losing power, strange knocks inside of a motor and some small pieces of metal can be found in oil.
Nothing left to do as to bring this motor to scrap metal people.
We do not have a single kawasaki dealership in my country and there is no way to get anything for this bikes here.
I bought a new motor in parts on the internet and a motor guy here put it in one piece. It is standart engin with modified j-i tubes. This mods shall improve circulation of oil and prevent 3 rod problem in the future.
I asked mechanic to short gear bike and I went for a 16 teeth front sproket. It gave crazy acceleration but it stole 15kms/h from the top speed. I never ride on top speed in any way, it is 270-285 kms per hour and here, we do not have any good road for this sort of speeds.
I went for 16 front 44 rear sprockets combination and I like it. It is good for a fast street racings as well as for a long distance trips.
Bike was lowered on 4cms with dog bones from zzr600, for me it is a very good improvement, because my own weight is 52kgs and now it is easier to hold motorcycle and move backwards and such. Ladies who ride heavy motorcycles often want to lower them and here is the way to go, picture shows where dog bones can be found.
Zed is not dead...
Bike received 6 potie calipers on front from suzi gsx- 1000 Picture show, they go straigt on and don't need any mods. I also changed break lines for braided "hel" lines on both wheels and now I can stop bike with just a two fingers. Break power is awesome
Some needless stuff like motor sound deadening and emission system has been removed. This is my weight losing project. I also plan to buy a battery from suzi hyabusa which will save 1kg of weight.
Previous owner installed some fancy hellibars and I returned C model handle bars, along with new corbin seat this changed my riding position for more sporty one.
Bike got a shiny black ZX9c rear wheel which is 4 kgs lighter of standart and ali sprocket that saved me another 1 kg of weight. ZX9 wheel needed some mashinning before it can fit on eleven.
Front wheel has been installed from ninja 600cc and this one is 3 kg lighter and this is one of the best improvement I have ever made on this bike, it now easier take corners and maneuverability is excellent. It needed some mods of speedometer before fitting on my bike.
Another good mod is progressive fork springs.
There are couple of things which I did without help of mechanic, I installed kn filter. It gave to motorcycle a mature hoarse bark and a few more horsepower.
I dynojetted carbs in winter on my kitchen. I went with 155 main jets, it improved throttle response a bit, but full advantage of dynojet kit will only be seen with aftermarket pipe.
Double bubble sort of screen improved aerodynamics and is a good wind protection.
With a new ZX-7r double headlight old predator got a second eye and give me more light now.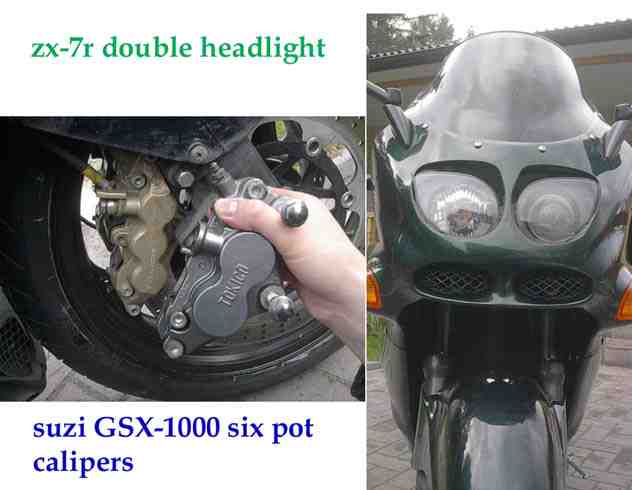 the result
What I've achieved with this tuning?
At this point, I got a motorcycle with performance of 900cc sport bikes and power of 1100 sport tourer.
We do not have a dyno stand here, but I got one primary installed in me and I believe my bike produces 150 hp on crankshaft(131 bhp on back wheel)
For a desert comes the sweetest part of a tuning pie, it is full racing exhaust system. I still can not save funds for a decent pipe. May be in next season.
I hope, this page can be useful for a fellows ZZR, ZX riders. April/16/2004
Home | Garage | Chapter 1 | Chapter 2 | Chapter 3 | Chapter 4 | Chapter 5 | Chapter 6 | Chapter 7 | Chapter 8 | Chapter 9 | Chapter 10 | Chapter 11 | Chapter 12 | Chapter 13 | Chapter 14 | Chapter 15 | Chapter 16 | Chapter 17 | Chapter 18 | Chapter 19 | Chapter 20 | Chapter 21 | Chapter 22 | Chapter 23 | Chapter 24 | Chapter 25 | Chapter 26 | Chapter 27